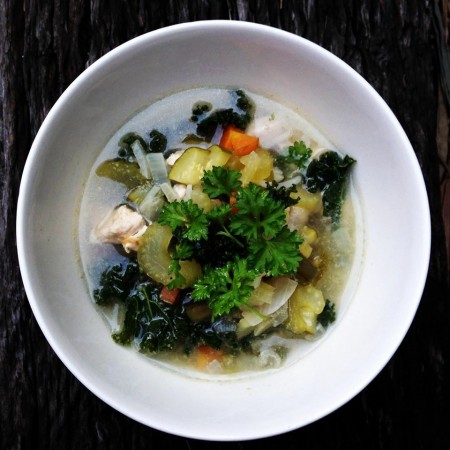 Anti inflammatory Chicken Soup
Chicken Soup for the soul. Nourish your family with the calming and therapeutic properties of chicken soup. Researchers found that the mildly anti-inflammatory effects of chicken soup — with vegetables — inhibit the severity of colds and relieve upper respiratory conditions. The researchers couldn't identify the exact ingredient in the soup that made it effective against colds but believe it may be the combination of vegetables and chicken that work together. Using blood samples from volunteers, they showed the soup inhibited the movement of neutrophils, the most common type of white blood cell that defends against infection.
This soup is on high rotation in my home and a family favourite, packed with healthy fat and nutrition from the vegetables, I use whatever I have on hand in my fridge and it's a great way to avoid food waste. I keep this mild for the kids but you could add chilli to amp up the warming effects!
INGREDIENTS
Serves 4
1 T coconut or olive oil
1 brown onion finely chopped
2 large carrots sliced in half moons
1 large zucchini chopped
3 celery stalks chopped
3 cloves garlic, crushed
2 tsp turmeric powder
Pinch cayenne/black pepper
1 cup green beans trimmed & chopped
2 free range chicken breasts, cubed
8 cups quality stock/broth (bone OR vegetable broth)
1-inch piece of fresh ginger, peeled and finely grated
3-4 bay leaves
3 stalks of kale, rinsed & leaves torn from the stem, chopped
Bunch of fresh parsley, chopped
½ pkt rice vermicelli noodles, broken optional
METHOD
Fry the oil, onion, garlic, turmeric, and pepper in a large pot, until onion softens.
Add chicken, cook stirring, for 5 minutes.
Add the vegetables and bay leaves with the stock.
Bring to the boil. Simmer for 20 minutes over low heat until chicken is cooked through and flavours have infused into the stock.
Add 

broken vermicelli, kale, and grated ginger. Allow to simmer for a further 5 minutes.

Remove bay leaves.
Serve in soup bowls and top with generous amounts of fresh parsley.
Tips
Vegetarians/Vegans can use tofu in place of chicken and good quality vegetable stock in place of chicken stock/broth.
Add dried or fresh chilli for extra zing.
Add fresh or tinned corn kernels.