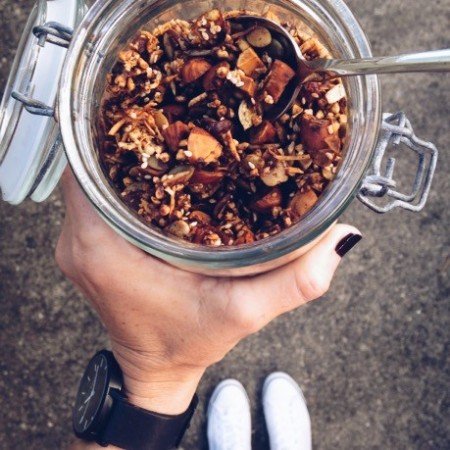 Almond, Fig and Cinnamon Granola
Why is it so good:
This granola is high in protein from the nuts and seeds which will make you feel energised and satiated throughout the day. Buckwheat is actually not a grain but a seed, and great for gluten-free and paleo diets. Replace with rolled oats if you can tolerate them. Making your own granola is very rewarding, especially when your kids love it!
It serves great as a topping on overnight oats & chia porridges, on top of coconut yoghurt & berries, and as an alternative to a traditional trail mix snack.
Store bought cereals often contain high amounts of refined sugars, fats, sodium, preservatives, and artificial sweeteners. These added nasties will only sabotage your efforts to maintain weight and energy levels.
I often make a double batch on a Sunday and store in glass jars in the fridge to keep its crunch. I will sometimes halve the mixture when it has cooled and add chopped dark chocolate (70% cocoa is the best!) for a decadent treat.
If you don't have all the ingredients don't lose your mind, substitute whatever nuts and seeds you have on hand, leave out the dried fruit to keep down the sugar content if you wish. It really is a good base to help you experiment. I often get my girls to taste test and they will make requests with what to add. This is a great way to encourage them to not only eat well but experiment with healthy food themselves. A tool for life!
Almond, Fig and Cinnamon Granola
Author:
Ingredients
1 cup raw almonds
1/2 cup raw macadamia's
1/2 cup shredded coconut
1/4 cup raw buckwheat (soaked overnight)
4 T pepitas (pumpkin seeds)
4 T sunflower seeds
2 T sesame seeds
2 T dried unsweetened cranberries
4 dried figs, chopped
2 T coconut oil, melted
1 tsp ground cinnamon
1/2 tsp ground ginger
2-4 T maple syrup or raw honey
pinch of Celtic sea salt or pink Himalayan salt
Instructions
Preheat your oven to a low 120 degrees celsius.
Combine all the dry ingredients (except the dried fruit) and give them a pulse in your blender/food processor, or give a rough chop. You can also leave it chunky.
Add the coconut oil and honey/maple syrup & give it a really good mix.
Place the mixture thinly on lined baking trays and bake for around an hour or until it goes a lovely golden brown colour, this will take around an hour depending on your oven. Check occasionally giving a gentle stir around. Be careful to not burn.
Allow to cool on the trays then stir in your dried fruit and store in glass jars in the fridge.
Keeps for up to 2 weeks.