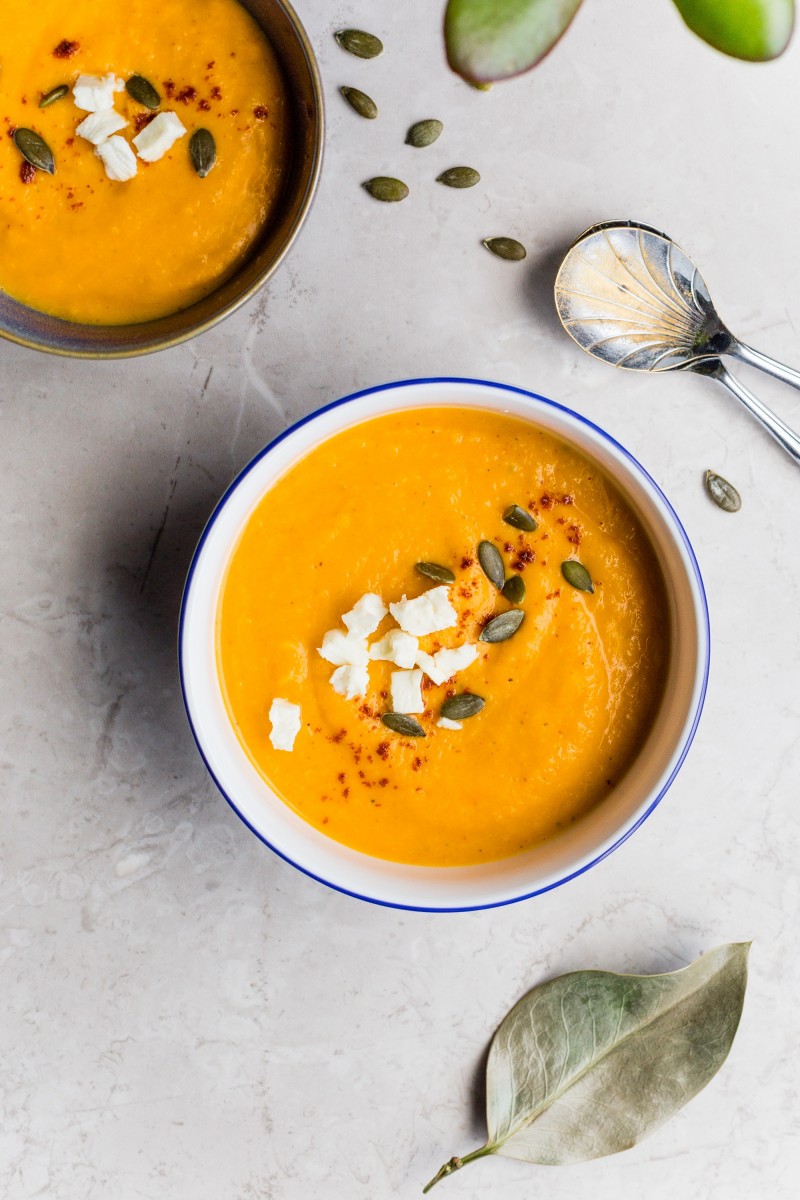 Coconut Roasted Pumpkin, Sweet Potato and Cashew cream soup
A perfect winter warmer, this is an amazingly nourishing and satisfying soup. Made with roasted chunks of pumpkin and sweet potato with a tasty roasted garlic and cashew cream blended within. Just be warned your kitchen will be filled with the smell of roasted garlic! 
Pumpkin and sweet potato are high in carotenoids (due to their orange colour) that act as antioxidants, to help fight stress and boost the immune system. They are a great source of Vitamins A & C and with the anti-inflammatory properties of turmeric and immune boosting roasted garlic this soup is sure to satisfy! The cashew cream is an amazing way to add nutrition and flavour without the addition of dairy.
Coconut Roasted Pumpkin, Sweet Potato and Cashew cream soup
Prep time:
Cook time:
Total time:
Ingredients
1 butternut pumpkin cubed
1 sweet potato cubed
2 T coconut oil
2/3 cup raw cashews
1 brown onion chopped
6 cloves garlic
4 cups quality vegetable stock
1 tsp turmeric powder
1 tsp cumin powder
1 tsp cinnamon powder
coriander or pepitas (pumpkin seeds) to serve
Instructions
Roast pumpkin, sweet potato & whole garlic cloves in 1 & a half tablespoons of coconut oil in.
Blend until creamy the cashews & roasted garlic (squeezed from skin) with 1/2 cup of the stock.
In a deep saucepan fry the spices in remaining coconut oil, add the onion, soften.
Add stock, pumpkin, sweet potato to the saucepan and bring to the boil, turning down to simmer. Spoon in the cashew and garlic cream.
Stir and simmer for 10 minutes. Use a stick blender to blend or pour it all back into your blender and blend til smooth. Top with coriander or pepitas.
Note: This is a thick and creamy style soup, you can always add more water or stock for desired consistency.