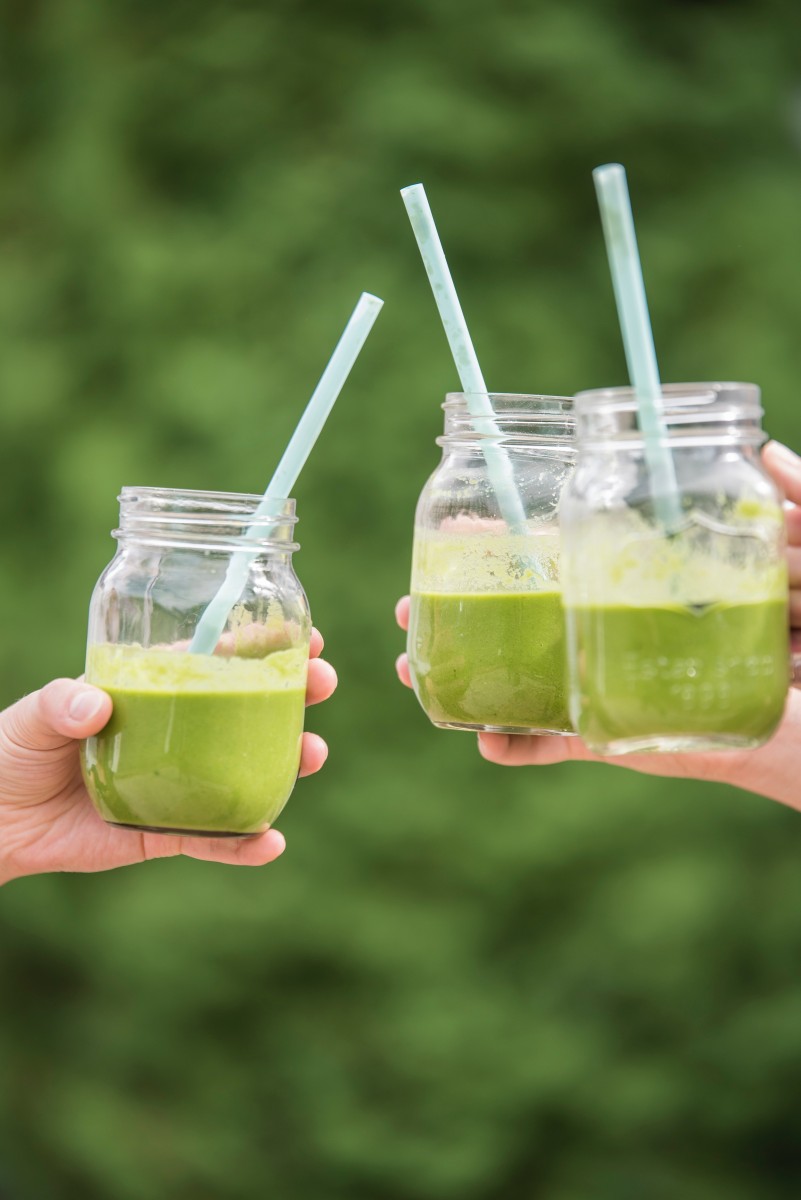 Smoothies can be a fantastic nutrient-dense addition to a healthy diet. When you're on the go and time poor adding a well-designed smoothie can make a convenient meal replacement.
Smoothies and shakes often get a bad rap for spiking your blood sugar, and for good reason. Many store-bought varieties are usually large in size and contain loads of fruit and added sweeteners that can hit you with up to 20-30 grams of sugar per serve.
The key is to keep the size smaller (between 400-500ml at most) and stick to just 1 or 2 serves of fruit.
A well-balanced smoothie should have:
Liquid: Milk or dairy-free alternative, coconut water, or filtered water
Protein: Protein powder (such as whey, pea, rice, hemp), or plain Greek/coconut yoghurt — be mindful of fruit flavoured yoghurt, it can add up to an extra 6 teaspoons of sugar per serve.
Fruit: Opt for green banana, or berries such as blueberries, raspberries, blackberries, strawberries.
Vegetables: Green leafy veg, zucchini, cauliflower
Fat: Avocado, coconut oil, avocado oil, chia seeds, flaxseeds, hemp seeds, raw nuts, nut butter
If you are trying to lose weight go easy on the fruit and try to add more green vegetables, adding the juice of a lemon or lime gives a nice tangy flavour and can mask some of the bitter taste of leafy greens.
We are becoming more aware of the link between the consumption of refined carbohydrates and diabetes and obesity. Not all calories are created equal. Energy Density refers to the number of calories in a particular volume or weight of the food. High-energy density foods including refined packaged and junk foods pack a lot of calories per bite. Low-energy-density foods, like fruit and vegetables, contain fewer calories and have higher water and added fibre content. Good for your belly and your gut!
Studies have consistently shown that eating more of these low-energy-dense foods increases weight loss and helps to maintain weight loss for longer.
High-energy-density foods can sabotage your efforts to lose weight and fuel your body.
Smoothies are a great way to sneak in extra serves of vegetables for kids and a great way to start the school day with 'brain food'. For my school-aged girls, I pour left-overs into ice-block moulds for a healthy dessert option or after-school treat. The addition of low glycemic carbohydrates, water, fibre, vitamins, and minerals arms them with the nutrition required for both mental and physical activity.
Experiment adding different ingredients to your smoothies. I chop and freeze small portions of vegetables, a great way to use up anything you have left over in the fridge. Extra bonus: it reduces food waste!
Add interesting ingredients like:
Frozen zucchini, kale, spinach, broccoli, cauliflower (vitamin K, magnesium, calcium, folate, potassium)
Frozen green banana (protein, magnesium, resistant starch, potassium)
Leafy greens (iron, magnesium, calcium, potassium, folate)
Avocado (essential fatty acids, fibre, potassium, vitamin K, folate, vitamin C)
Greens powder
Protein powder
Coconut water (potassium, magnesium)
Nut milks (without additives)
Flax & Chia seeds (fibre, essential fatty acids)
Hemp seeds (protein, fibre, essential fatty acids, vitamin E, phosphorous, potassium, magnesium, calcium, iron, zinc)
Coconut oil (medium-chain fatty acids)
Grated fresh ginger
---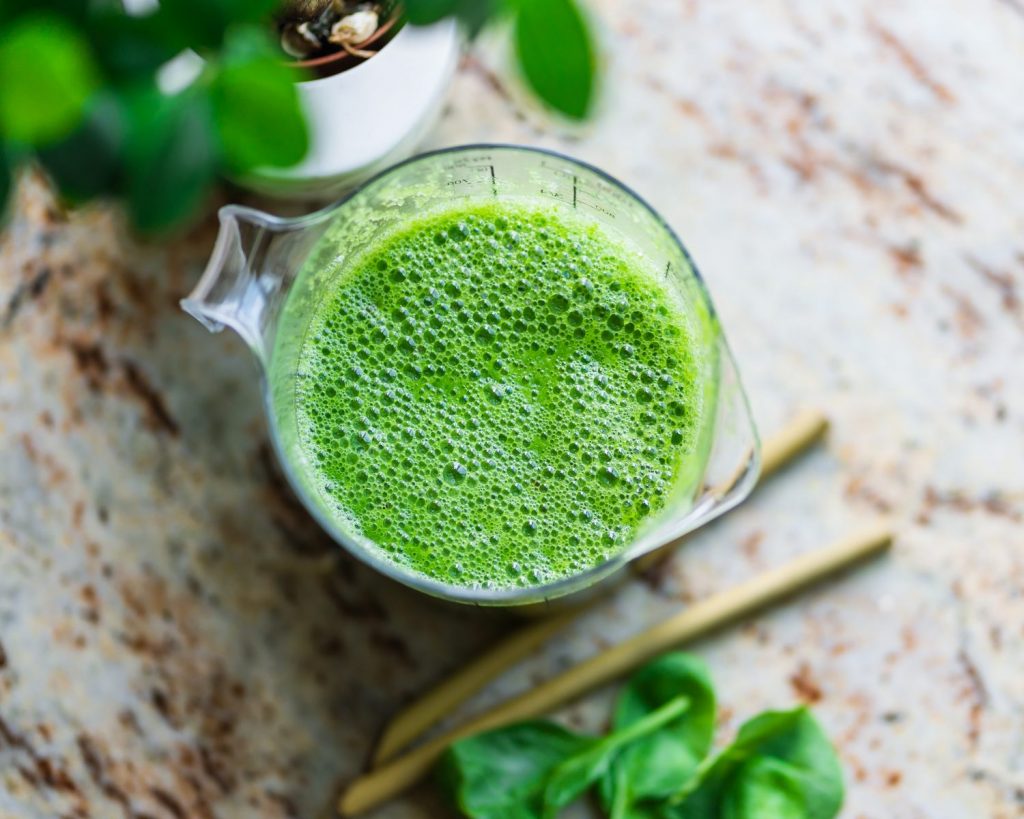 ---
Green-Machine Smoothie Recipe
1 cup filtered water or coconut water
1 large cucumber
2 stalks celery
Handful Kale leaves torn from stem
Handful baby spinach
1/2 green apple or 1/2 cup of frozen pineapple
1/2 inch knob of fresh ginger
Juice of half a lemon or lime
1 Tablespoon chia seeds
METHOD
Blend all ingredients in a high speed blender (no longer than 60 seconds).
Frequently Asked Questions
How do I make the smoothie thicker?
Frozen avocado, banana or more ice are a great way to thicken up your smoothie.
How do I make my smoothie thinner?
If your smoothie is so thick you can't drink it through a straw, simply turn it into a smoothie bowl and add extra toppings for a satisfying meal. OR
Simply adding a little more filtered water will do the trick.
Are smoothies good for weight loss?
Smoothies loaded with 4-5 serves of fruit, that you would not normally consume in one session, can be problematic if you are trying to lose weight. Most people will lose weight by eliminating sugar and added fruit from their diet in the early stages of weight loss. If you are in a healthy weight range and exercising regularly small servings of fruit isn't such a big issue.
Adding sweeteners is not necessary. If you're going to add a sweetener, I recommend using natural alternatives like maple syrup, stevia, or raw honey (do not give raw honey to children under 12 months of age).
Good nutrition takes practice, it's not about having the perfect diet or heavily restricting and obsessing over food. Instead of viewing food as 'good' or 'bad' think of its nutritional 'bang for your buck'. If you have overindulged one day, try fasting the next morning, make yourself a smoothie for lunch, have a light dinner, and most importantly – be kind to yourself.